 DOCUMENT 1
11/08/2022 
CC: 
[email address] 
Delive1y Planner (Biodiversity) 
9(2)(3) 
ATTENTION-
PERMISSION ID DOC-7110274 HABITAT TUATEAWA POSSUM AND 
RAT  CONTROL OPERATION 
SUBSTANCE APPROVAL NUMBERS: HSR001598-HSR001596  
ACT 1982
Having considered application 
DOC-7108959 
and assessment repo1t 
DOC-7110276 
and 
having  considered  the  adverse  effects  of  the  use  of  
Feracol  Hard  Paste
(Cholecalciferol 8/kg) 
and 
D-Block Extreme(Diphacinone0.0Sg/kg) 
on DOC managed 
or  administered  land,  I  have  decided  to  grant  this  permission  subject to  conditions.  I 
consider that granting this permission is in accordance with the pm-pose of the Hazardous 
Substances and New Organisms Act  1996, recognizing the life-suppo1ting capacity of 
ecosystems and the wellbeing of people and communities, and taking into account the 
principles  and  other  matters  in sections  5,  6,  7  and  8  of that Act.  I  consider  that the 
INFORMATION 
conditions imposed in this pennission are consistent with the approval of the substance. 
I also consider that the controlling of pests is in accordance with the General Policy for 
National Parks (pa1ticularly Policy 4.3)-and the Conservation General Policy (see Section 
4.2).  These  General  Policies  have  been  given  effect  to  through various conservation 
planning documents and are in line with the pm-poses of the conse1vation legislation. I 
also understand that the controlling of pests and the protection of indigenous biodiversity 
generally gives effect to the principles of the Treaty of Waitangi. I, therefore, consider 
that permission to control pests on public conse1vation land can be granted. 
Pennission is granted, to take immediate effect under: 
• Section 95A of the Hazardous Substances and New Organisms Act 1996
• 
[Section 54 ofthe Wildlife Act 1953}
• 
[Section 38 of the Conservation Act 1987}
RELEASED UNDER THE OFFICIAL 
for the Habitat Tuateawa,  or  any other person  acting  under  their  authority (including 
contractors) to apply: 
• Cholecalciferol 8 g/kg  hard paste  in bait stations
• D- Blocks ExtremeDiphacinone 0.05g/kg in bait stations
on or after the date of this letter until 30th November  2022; and 
---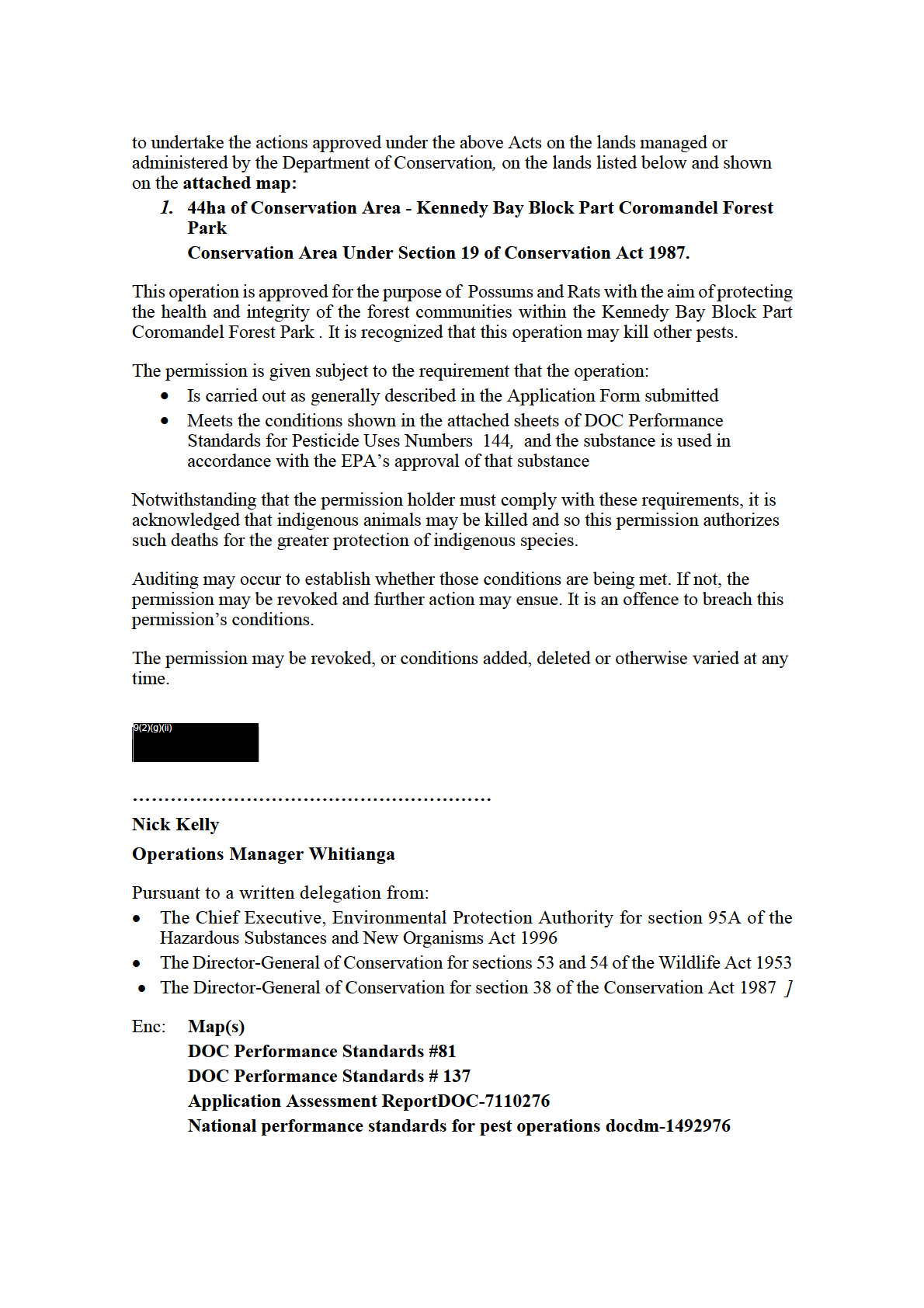 1982
ACT 
INFORMATION 
OFFICIAL 
THE 
UNDER 
RELEASED 
---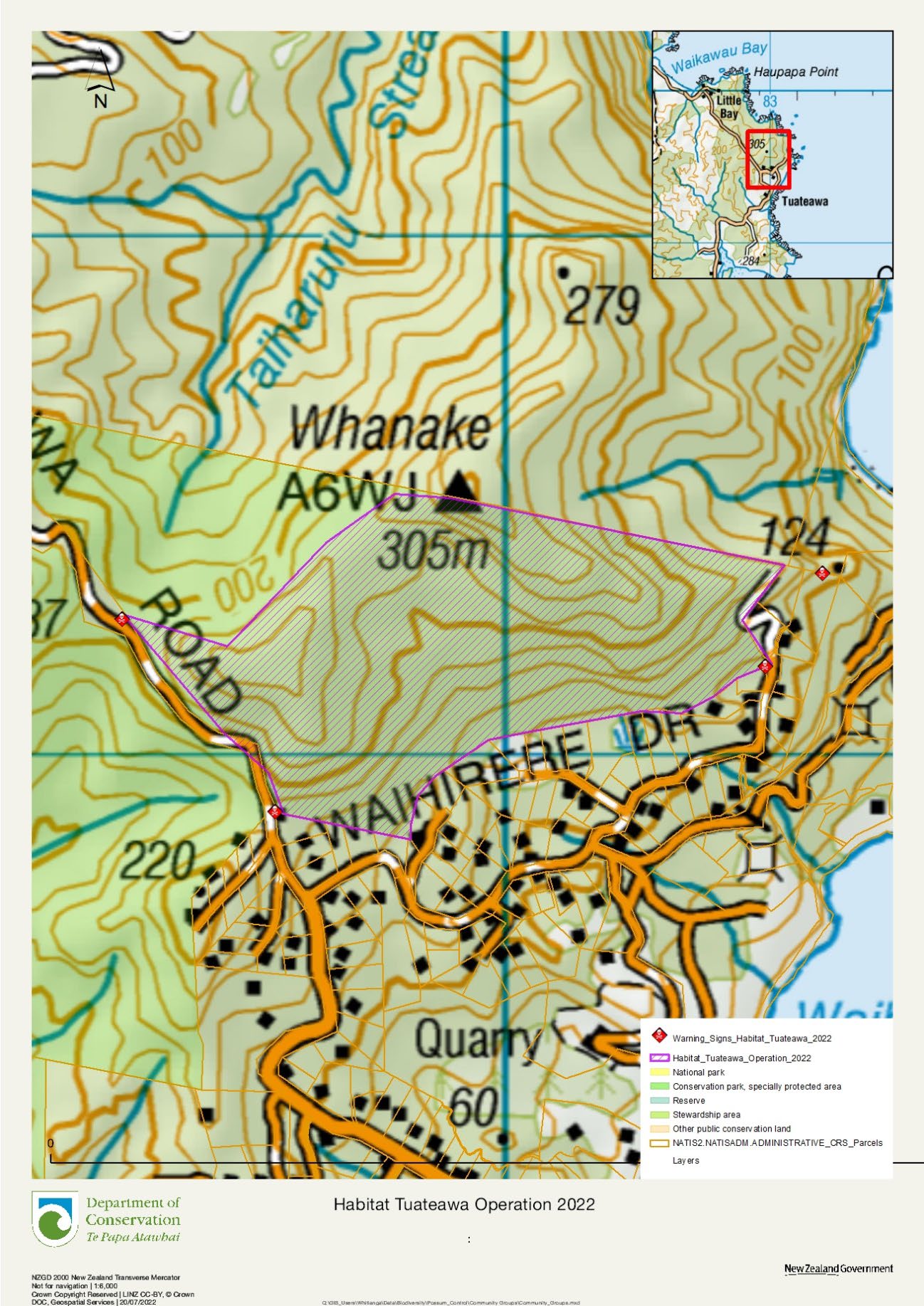 Ref: 
[File number]
1982
ACT 
INFORMATION 
OFFICIAL 
THE 
UNDER 
RELEASED          
---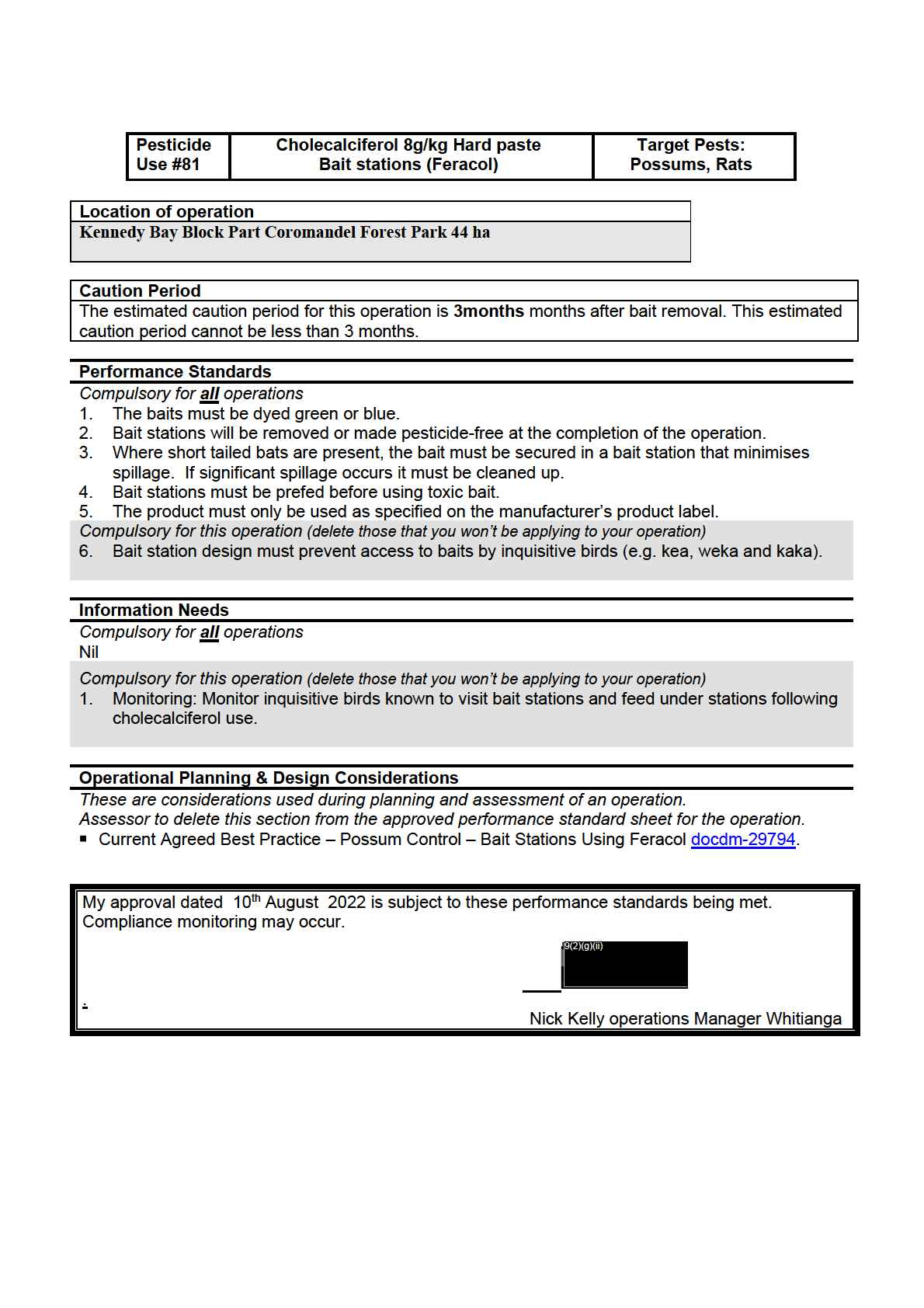 1982
ACT 
INFORMATION 
OFFICIAL 
THE 
UNDER 
RELEASED 
---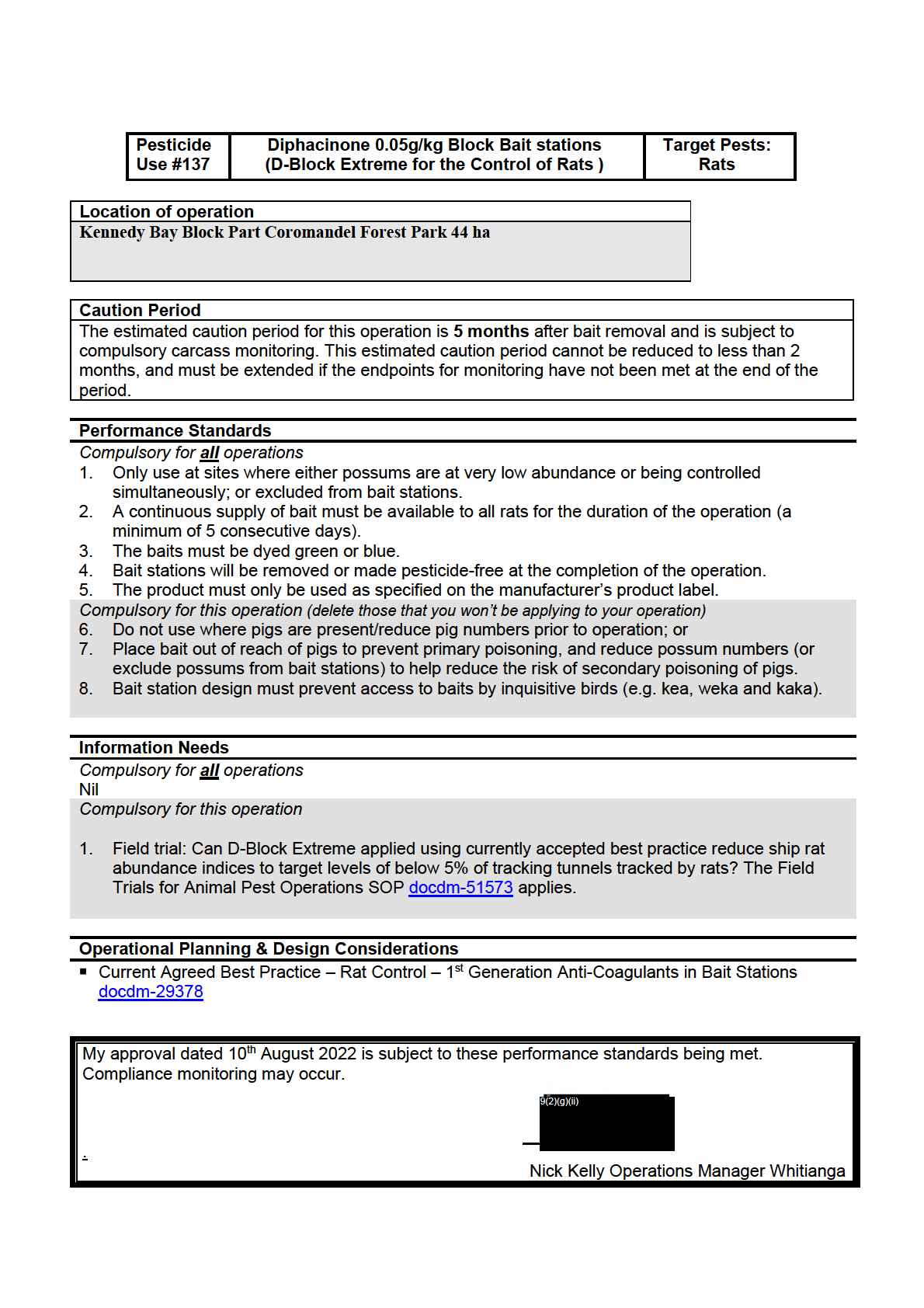 1982
ACT 
INFORMATION 
OFFICIAL 
THE 
UNDER 
RELEASED 
---
1982  
ACT         
INFORMATION       
OFFICIAL     
THE     
UNDER 
RELEASED 
---