Southern District Health Board 
Dunedin Hospital 
201 Great King Street 
Private Bag 1921 
DUNEDIN 9054 
Chief Executive Officer   
Phone 03-476 9456 Fax 03-476 9450   
29 June 2022    
Emma Vitz      
Email: fyi-request-19607-52a6afd1@reque    
Dear Ms Vitz   
Re: 
Official Information Act Request # 2430   
I refer to your Official Information Act request received on 16 June 2022 in which you specifically 
requested the fol owing: 
I would like to request the fol owing information for each of the DHBs in New Zealand, split by 
DHB.  
1. The total number of procedures outsourced by year (including the year to date) for the past 
five years. 
2017/18 
2018/19 
2019/20 
2020/21 
2021/22 
Forecast 
to May 
to June 
YTD 
2022 
Outsourced  780 
964 
1179 
1,560 
1,461 
1,596 
cases 
2. For each year, provide a breakdown of the type of procedure. 
Please refer to the table below. 
1 
---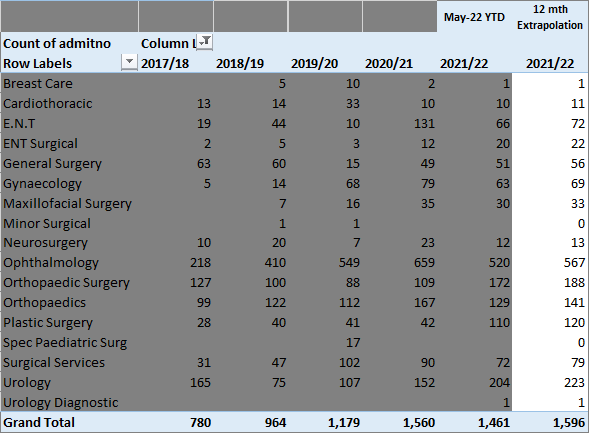 3. For each year, provide the total spend on outsourced elective surgeries. 
Southern DHB outsourcing expenditure 
2018 
2019 
2020 
2021  2022 (11 months)  2022 (extrapolated) 
$5,019,802  $7,176,078  $7,385,063  $10,541,060 
$12,126,706 
$13,229,133 
4. For each year, provide the amount that these surgeries would have cost the DHBs if they had 
not been outsourced. 
Due to the complex nature of pricing an operation, which includes many variables and is affected 
by the DHB's economies of scale, we're not able to confidently provide you with an accurate 
answer to this question.   
You have the right to seek an investigation and review of our decision by the Ombudsman.  The 
Ombudsman's Office can be contacted on 0800 802 602 or on-line at 
http://www.ombudsman.parliament.nz/.  
Yours sincerely       
Chris Fleming 
Chief Executive Officer 
2 
---