133 Molesworth Street 
PO Box 5013 
Wellington 6140 
New Zealand 
T
+64 4 496 2000   
13 August 2021     
NZ Health Justice    
By email:  [FYI request #16126 email] 
Ref:   
H202108680    
Tēnā koe NZ Health Justice   
Response to your request for official information
Thank you for your request under the Official Information Act 1982 (the Act) to the Ministry of 
Health (the Ministry) on 19 July for: 
"Emails and text messages between Amanda Bleckmann, Group Manager Operational 
Performance, Disability and Josephine Gagan, CEO of NZ Health Group/HealthCare NZ 
Limited since 23 September 2020. 
 
For the avoidance of doubt, we refer to Ombudsman Case 439322 (2017) and request 
that your search include both private email accounts and personal devices. 
 
Please also provide a record of meetings and phone conversations between Ms 
Bleckmann and Ms Gagan since 23 September 2020. Again, we refer to the 
Ombudsman's decision in Case 43932.  
 
We request the same information regarding communications between Adri Isbister, 
Deputy Director-General, Disability and Ms Gagan." 
Please find all information within scope of your request attached in Appendix 1. Some 
information has been withheld under the following sections of the Act: 
  •  Section 9(2)(a) to protect the privacy of natural persons.  
•  Section 9(2)(b)(ii) where its release would likely unreasonably prejudice the commercial 
position of the person who supplied the information. 
•  Section 9(2)(ba)(i) to protect information that is subject to an obligation of confidence 
and making it available would likely prejudice the supply of similar information, or 
information from the same source. 
•  Section 9(2)(k) to prevent the disclosure or use of official information for improper gain or 
advantage.   
I trust this information fulfils your request. Under section 28(3) of the Act you have the right to 
ask the Ombudsman to review any decisions made under this request. The Ombudsman may 
be contacted by email at:
 [email address] 
or by calling 0800 802 602.      
---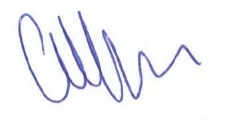 Please note that this response, with your personal details removed, may be published on the 
Ministry website at:
 www.health.govt.nz/about-ministry/information-releases/responses-official-
information-act-requests.
Nāku noa, nā        
Adri Isbister 
Deputy Director-General 
Disability
Page 2 of 2 
---