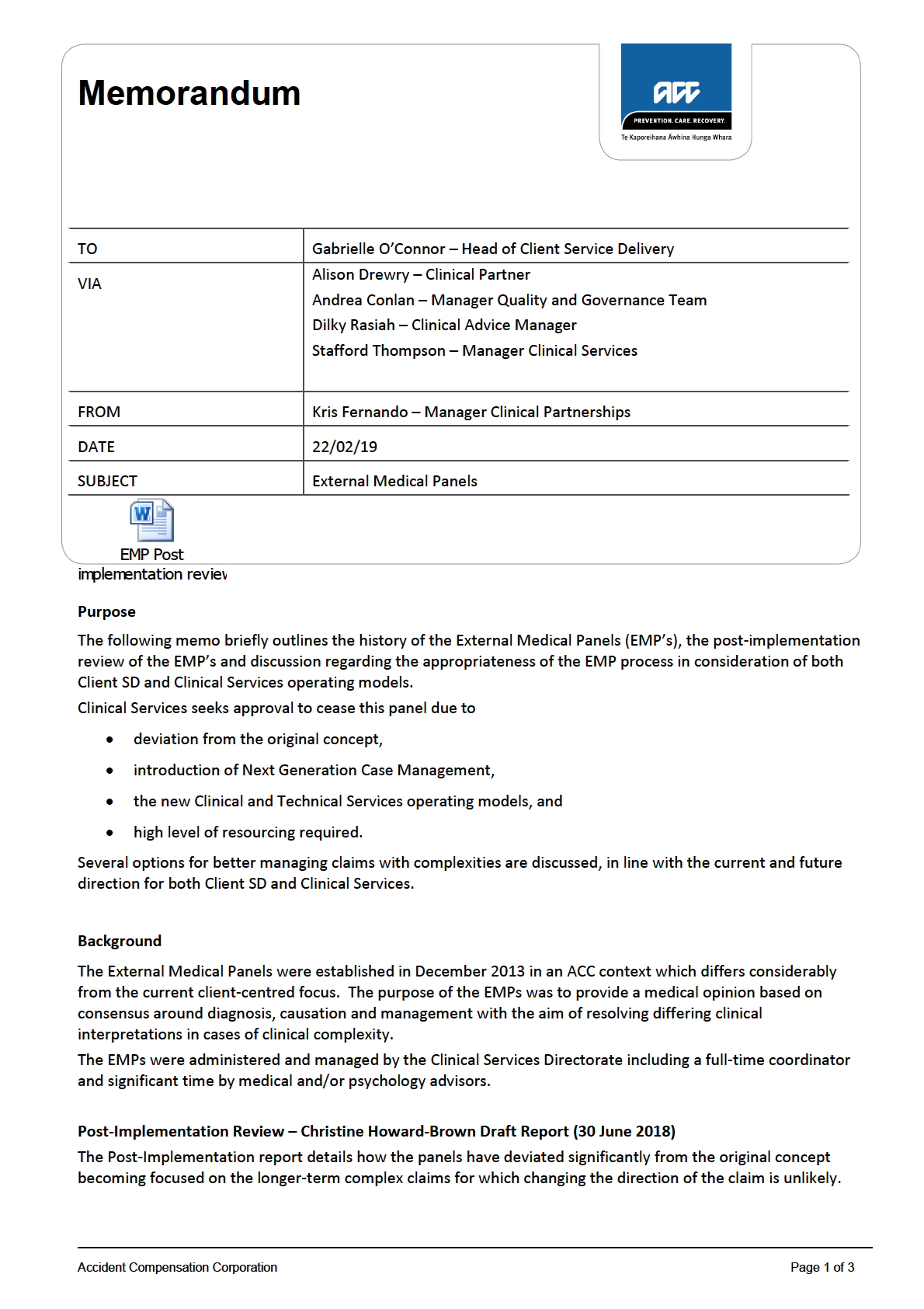 1982
Act 
Information 
Official 
the 
under 
Released 
---
Several potential sources of bias have crept into the EMP process due to process modification which is detailed in 
the attached report. It should be noted that some of these process modifications were made to address practical, 
administrative needs without which the EMP could not easily function. 
 
EMP Costs and Resourcing 

The External Medical Panels are resource intensive. Attendance of four panel members at each panel amounts to 
$10,000 without factoring in travel costs, Medical Advisor resource, the administrative cost of a full-time 
administrator and a stenographer.    
1982
Current Utilisation 

The EMP had been meeting monthly. There have been no 2019 meetings. Approximately five cases were 
discussed at each meeting. While there is no good quality data on the wait time from referral being received to 
Act 
the case being discussed by the EMP, it was not uncommon for the claim to have to wait at least two months to 
be considered. 
 
Next Generation Case Management (NGCM) 

As part of the refinement of the NGCM model for roll-out, the majority of BAU internal panels are being 
discontinued e.g. Support Needs Assessment Panel, LOPE Panel, National Consistency Panel.  Instead, where 
support is required this wil  be met using the Recovery Support model. Where a claim requires comprehensive 
review this can be achieved by co-ordinated written advice, involving Clinical and Technical advisors as 
appropriate. 
The EMP were considered out of scope of the Phase 3 Design of Recovery Support and therefore a decision was 
Information 
not made on if it should continue or not. 
 
Discussion 

The consensus from Clinical Services is that the External Medical Panel should be discontinued taking into account 
the resource consumed, the direction of Next Generation Case Management, the new Technical and Clinical 
Official 
Services operating models and Chris Howard-Brown's Post-Implementation review. 
The clinical group discussed ways in which improvements can be made in the identification and management of 
claims with complexities present to promote improved client outcomes. 
the 
• Identification of Psychosocial barriers: Ensuring that psychosocial barriers are identified early in the life of a 
claim by influencing the practices and skills of Case Owners, internal advisors and providers. 
• Recruiting wider areas of specialty into the Principal Clinical Advice Team and the development of the 
clinical competency framework will improve ACC's capability to provide targeted, credible and specialised 
advice. 
under 
• Long-term claims are clinical resource intensive in terms of file review and making recommendations. The 
specific questions Case Owners ask have not always been clear and well-articulated resulting in 
unnecessary complex reviews. Case Owners require more specific guidance around which cases would 
benefit from a comprehensive clinical review with discussion occurring between the Clinical Advisor and 
Case Owner before the Clinical Advisor embarks on the comprehensive case review. Additionally, 
consultation with Technical Services will also provide guidance as to whether a comprehensive clinical 
review is indicated when revocation of cover or suspension of entitlements is being considered. 
•  More focused internal review, with involvement of the appropriate specialties, wil  help determine the 
Released 
best way forward and determine when an external specialist review is required. This will avoid the past 
practice of obtaining multiple external specialist reviews without a robust rationale for doing so. 
Accident Compensation Corporation 
Page 2 of 3 
---
• Acknowledge in complex cases where maximum recovery has occurred to avoid clients being subjected to 
multiple assessments and treatments which are highly unlikely to make any difference to the outcome for 
the client.   
Recommendation 

It is our recommendation that the External Medical Panels are discontinued, with claims requiring complex review 
being directed to Clinical and/or Technical Services for response and support for the Case Owner. 
1982
Implementation  

There are currently no scheduled meetings of the External Medical Panel.  If the above recommendation is 
approved, the next steps would be 
Act 
• Communication to Client SD staff that the EMP process has been discontinued, guidance given about how 
to seek advice in complex cases using the existing Clinical and Technical advice channels 
• Remove content on CHIPS and create Promapp content 
• Official y inform the EMP members that the panel has been discontinued   
Please contact myself or any clinical staff listed on this memo if you would like to discuss this further. Otherwise 
please indicate whether you approve the proposed cessation of the EMP.   
Information       
Official 
the 
under 
Released 
Accident Compensation Corporation 
Page 3 of 3 
---
Document Outline
---