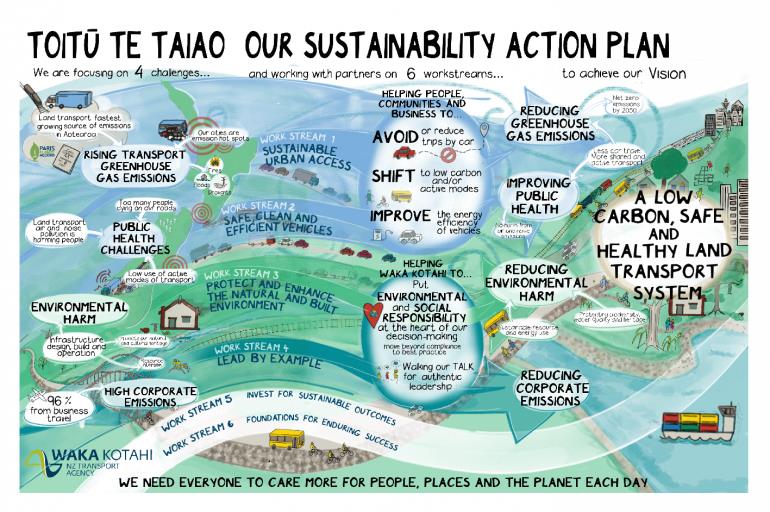 Te Puna Taiao: an 
environmental impact model  
1. 
Updated 17 Aug 2020 
4 

Share 
1982
Updated 18 Aug 2020 
ACT 
INFORMATION 
OFFICIAL 
THE 
UNDER   
1. An exciting new project has kicked off, developing an environmental impact model for 
land transport that supports Waka Kotahi commitment to deliver a low-carbon, safe and 
healthy land transport system. 
2. Te Puna Taiao means the environmental or the earth spring. Reflecting the intention 
behind the model Te Puna Taiao speaks to enhancing the mauri (life essence) of water 
RELEASED 
and the natural environment, the challenge being tackled by this project. 
3. The model will enable Waka Kotahi to assess the likely impact on the environment of 
operational policies, programmes and projects affecting the land transport system. Its 
aim is to understand the combined effect of activities Waka Kotahi undertakes. To achieve 
this, Te Puna Taiao will model the application of many interventions through the levers 
identified in Arataki, including in the areas of policy and regulation, spatial and place-
based planning, network design, investment, economic tools and education. 
---
4. The project team are taking a bold, multidisciplinary approach to the initiative in line 
with Toitū Te Taiao, one that brings together specialists from transport modelling, 
behavioural change, geospatial mapping, statistics, econometrics and project 
management, as well as experts from the Auckland Forecasting Centre and the Ministry of 
Transport. We will also include Māori and community perspectives through consultation 
and research. This will bring fresh perspectives and new ways of thinking to the process of 
developing a robust, evidence-based and scientifically valid model. 
5. Once developed, Te Puna Taiao will provide Waka Kotahi and partners with a better 
understanding of the actions needed to ensure a safer, healthier and more sustainable 
1982
environment for today's and future generations. 
6. If you wish to join us on this journey we have a Friends of the Project channel in 
ACT 
Microsoft Teams, please contact the
 Matt Willis, Project Advisor,  i
n the Environment & 
Sustainability team to get involved.           
INFORMATION 
OFFICIAL 
THE 
UNDER 
RELEASED 
WAKA KOTAHI NZ TRANSPORT AGENCY 
DOCUMENT TITLE // 2   
---