Te Uru 
Räkau
Forestry New Zealand 
ONE BILLION TREES FUND ADVISORY PANEL 
TERMS OF REFERENCE 
BACKGROUND 
ACT 1982
1. The purpose of the One Billion Trees Fund (the Fund) is to establish trees in
partnership with others to achieve a wide range of social, cultural, environmental
and economic benefits.
2. The Director-General of the Ministry for Primary Industries (MPI) is responsible
for the commitment of Crown funding to the Fund.
3. The Investment policy statement at Appendix A sets out the principles underpinning
the Fund design, the risk management approach, and the outcomes Te Uru Räkau 
is seeking to deliver through the Fund. It is intended to guide investment priorities. 
4. A cross-agency advisory panel (the Panel) fits into the Fund application
INFORMATION
process (see Appendix B), and has an important role in its success. 
ROLES AND RESPONSIBILITIES OF THE PANEL 
5. The roles and responsibilities of the Panel are set out below.
Strateqic oversight 
5.1 Prior to each meeting, the Panel will be provided with an overview of the approved 
Fund applications year-to-date, including the grant applications which do not 
meet the threshold for panel consideration. 
5.2 The Panel should take this overview into account when considering the 
applications presented to them, for instance, whether there is over- or 
underrepresentation in a sector or region. 
5.3  Panel members are expected to contribute information at a whole-
ofgovernment level, for instance, how the Crown is supporting Mäori to 
achieve their aspirations. 
Recommendations 
5.4 The Panel will assess and make recommendations, with or without conditions, 
on applications which are presented to them by the Forestry Grants and 
Partnership Team in Te Uru Räkau. The application type will be either: 
a. applications for partnership funding; or
b. grant applications that are high value (greater than $500,000 or 300
hectares), particularly complex or are seeking flexibility outside of the
standard grant eligibility parameters.
5.5 RELEASED UNDER THE OFFICIAL 
  In making its recommendations, the Panel will ensure that funding decisions are 
aligned with government priorities, the Fund's objectives, and investment 
decisions from their respective agencies. 
---
l of6  
5.6  Recommendations by the Panel may be reached by a simple majority, and will 
be submitted to the relevant delegated financial authority within MPI or Te Uru 
Räkau, who has absolute discretion to accept or decline in whole or part, the 
recommendations of the Panel. 
1982
5.7  Al  final decisions wil  be reported back to the Panel. 
5.8  The Panel may recommend any areas where Te Uru Räkau could take a 
proactive approach to seeking applications which strongly align with the Fund's 
ACT 
objectives, for instance, in regions or sectors which are under-represented. 
Reputing 
5.9 The Panel wil : 
a.  submit via the Secretariat, within five working days of each meeting, the 
recommendations made; and 
b.  provide advice, as and when required but at least biannually, on: 
i.  areas where Te Uru Räkau could take a pro-active approach, as per 
5.8, above; and 
ii. programmes and initiatives being led by their respective agencies 
INFORMATION 
which could be relevant to the One Billion Trees Fund and/or to the 
Provincial Growth Fund. 
PANEL MAKE-UP 
Chair 
6. The position of Chair is ex officio, and will be held by the Forestry Grants and 
Partnership Manager, Te Uru Räkau. OFFICIAL 
Members 
7.  The Panel will consist of representatives from the following organisations: 
•
THE 
  Department of Conservation 
•  Ministry for the Environment 
•  Provincial Development Unit, Ministry of Business, Innovation and 
Employment 
•  Te Puni Kökiri 
UNDER 
•  Ministry for Culture and Heritage. 
8.  From time to time, subject matter experts from the forestry sector or from other 
agencies (for example, the Ministry of Social Development, the Tertiary 
Education Commission) may be asked by the Chair to join a meeting to support the 
Panel with its consideration of a specific application. 
9.  Where a member is unable to attend a panel meeting, upon receipt of the papers 
they must provide to the Secretariat their apologies and the name of the delegate 
who will attend in
RELEASED   their place. 
---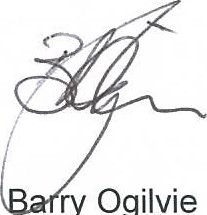 2 0f6 
Secretariat 
10. The role of the Secretariat will be filled by a member of the Forestry Grants and 
1982
Partnership Team. 
1 1 . The responsibilities of the Secretariat are as follows: 
a.  Prepare a paper with an overview of the Fund to date. 
ACT 
b.  Collate the papers for each application to be considered. 
c.  Provide the necessary papers to panel members at least one week before 
the meeting. 
d.  Where necessary, pass on apologies and names of delegates to the 
Chair. 
e.  Take minutes. 
f.  Make a record of the final decisions (using the template in Appendix C), to 
be signed by the Chair, which will go with a recommendation memo to the 
relevant delegated financial authority.  INFORMATION 
g.  Notify panel members of the final decisions. 
OFFICIAL INFORMATION ACT 1982 
12. The Official Information Act applies to the records of the Panel. 
EXECUTION 
Agreed and Signed by: 
OFFICIAL 
THE   
Damian Diack 
ry  Ogilvie 
Programme Director 
Chair 
One Bil ion Trees 
UNDER 
One Bil ion Trees Fund Advisory Panel 
Te Uru Räkau 
M 2 /2019 
(7 / 2_/2019 
RELEASED 
---

3 0f6 
1982
ACT 
INFORMATION 
OFFICIAL 
THE 
UNDER 
RELEASED 
---








APPENDIX A:  INVESTMENT POLICY STATEMENT 
Purpose statement 
To establish one bil ion trees in partnership with others to achieve a broad range of social, cultural, 
environmental and economic benefits. 
1982
Principles underpinning the One Bil ion Trees Fund   
Land-manager focus -  for fund design and support to enable land-managers to make improved 
decisions about the integration of trees into the landscape. 
ACT   
Support integrated land management and greater resilience in landscapes and communities the right 
species planted in the right place and for the right purpose to enhance land management outcomes 
and build resilience, particularly to environmental shocks and a changing climate.   
Facilitate a significant increase in indigenous forest cover to restore our natural forest 
heritage  the target of two-thirds of trees established as a result of grant funding are 
indigenous species helps to turn the tide on biodiversity loss.   
Effective and flexible fund management - flexibility for funds to be targeted to projects that wil  
accelerate planting to deliver wider outcomes, and avoid competition with private investors.   
Take a strategic investment approach - target investment to projects that establish the foundations 
for the 10-year programme e.g. building a skil ed workforce, taking a catchment-level view, and 
including projects that become self-sustaining beyond the short-term funding cycle.   
Leverage partnerships and co-investment- work with partners with existing relationships, expertise, 
INFORMATION 
resources, and funding in order to deliver more efficient and effective outcomes that are aligned 
with local priorities.   
Build on successful models - support and build on existing successful models and projects that are 
aligned with broader government priorities and initiatives, such as Hil  Country Erosion programme, 
Biodiversity Strategy, Freshwater Improvement Fund.   
Deliver the core objectives of the Provincial Growth Fund (PGF) - align with the PGF criteria and 
projects spanning both the One Bil ion Trees programme and the wider PGF to deliver regional 
development. 
OFFICIAL 
Risk management approach: There are natural environmental risks, project delivery and governance risks, and wider 
systemic risks, such as labour and seedling supply, to successful programme delivery. We wil  seek to manage these risks 
through sound fund management, a diverse project portfolio and the strategic use of funding to address barriers to success. 
THE 
Our partners: regional councils, non-government organisations, researchers, training organisations, businesses, Mäori 
entities, community groups, key government agencies, landowners and organisations with a right to plant trees on the land. 
Increased employment, training or work 
Te Uru Räkau wil  prioritise projects that contribute 
readiness for the sector's workforce for forestry 
to at least three of these outcomes: Increased 
and land management. 
sustainable regional development through forestry 
UNDER 
and tree planting activities. Increased productivity 
We wil  also consider a project's contribution to: 
and innovation in forestry and related sectors. 
New Zealand's ability to meet its climate 
Improved support of Mäori aspirations to 
change obligations through the establishment 
utilise their land and resources through trees 
of trees. 
and forestry. 
• Better-informed tree planting decisions, through 
Enhanced environmental sustainability 
improved information, advice and suppolt for 
through the establishment of trees and forests, 
landowners. 
in panicular: 
Diversification of productive land uses, including 
o  Reduced erosion and improved water quality, 
indigenous forestry and continuous canopy 
particularly in at-risk catchments. 
RELEASED 
forestry. 
o  Enhanced indigenous biodiversity through 
restoration of natural forest.   
---


APPENDIX B:  
4 of 6 
ONE BILLION TREES FUND APPLICATION PROCESS 
The key steps of the process are: 
1982
a)  Step 1: Investment advisers in the Forestry Grants and Partnership Team assess 
applications, calling upon subject matter experts as required, and complete an 
assessment memo and a recommendation memo for each application. 
ACT 
b)  Step 2: Prior to each meeting, panel members will receive: 
i. an overview of the One Billion Trees Fund, year-to-date; ii. 
an overview of the applications to be considered; and 
iii. copies of the application, the assessment memo, and the recommendation 
memo for each project being considered. 
c)  Step 3: The Panel considers each application and decides whether it supports an 
application, with or without conditions. The Panel must provide reasons if they 
decide not to support an application, and where appropriate any advice as to 
what steps Te Uru Räkau may take to secure a positive recommendation from 
the Panel. 
INFORMATION 
d)  Step 4: The Panel must ensure that their decisions align with Government 
priorities, the objectives of the One Billion Trees programme, and with 
investment decisions made by their respective agencies. 
e)  Step 5: All final decisions on applications will be made by the relevant delegated 
financial authority in MPI or Te Uru Räkau, and reported back to the Panel. 
f)  Step 6: From time-to-time, but at least biannually, the Panel is to provide advice 
on where Te Uru Räkau could take a proactive ap
OFFICIAL  proach to seeking applications 
which strongly align with the Fund's objectives, for instance, in regions or sectors 
which are under-represented. 
THE 
UNDER 
RELEASED   
---
APPENDIX C:  
5 0f6 
TEMPLATE FOR DECISIONS 
1982
Date: 
At its meeting held on dd/mm/yyyy, the One Billion Trees Fund Advisory Panel made 
ACT 
the following recommendations: 
Project reference   Project name 
Recommendation 
Comments 
(support; support with 
conditions; not su ort 
IBT-OOxxx                               
Barry Ogilvie 
INFORMATION 
Chair 
One Bil ion Trees Fund Advisory Panel 
OFFICIAL 
THE 
UNDER 
RELEASED 
---

APPENDIX D:    
6 of 6 
1982
ACT 
INFORMATION 
OFFICIAL 
THE 
UNDER 
RELEASED 
---
Document Outline
---