6 April 2020 
Ministerial and Secretariat Services 
Bowen House 
Cnr Bowen St & Lambton Quay 
PO Box 805, Wellington 6140, New Zealand 
Phone +64 4 495 7200 
Fax +64 4 470 2942
dia.govt.nz 
Blaize McCabe 
[email address].n
Dear Blaize McCabe 
Official Information Act request (OIA19/20 - 0670) 

I refer to your Official Information Act request of 9 March 2020 requesting the following: 
Please provide information about the cost of ANZAC services in New Zealand since 
2000. Please also provide information about the cost of ANZAC services outside of New 
Zealand if held. 
Response to your request 
The Department of Internal Affairs' (the Department) Visits and Ceremonial Office (VCO) is 
responsible for organising some Anzac Day commemoration events in New Zealand, including 
the Anzac Day Dawn Service, the ANZAC Day National Commemoration at Pukeahu National 
Memorial Park, and  the  Atatürk  Memorial Wreathlaying  ceremony  all held in Wellington.  
Events in other cities are run by local Councils. 
The Ministry of Culture and Heritage (MCH) and the New Zealand Defence Force (NZDF) are 
responsible for ANZAC commemorations held in overseas locations. I understand that your 
request was also sent to both those agencies and so they wil  respond to the part of your 
under the Official Information Act 1982
request about the costs of ANZAC services held outside New Zealand. 
Prior to 2015, the Anzac event at the Cenotaph was run and funded primarily by Wel ington 
City Council (WCC). Since Pukeahu opened, the service has been held there and organised by 
the Department. The Department also changed its financial system in 2015. For the years since 
then, we have provided the final costs of the ANZAC day event in the table on the fol owing 
Released 
page. 
In order to answer your request for costs incurred by the Department for Anzac services in 
years prior to 2015, we have searched through previous responses to Official Information Act 
requests for any similar requests from those years. We have also located some  costs 
information in the old financial system. In most cases these costs are indicative budgeted costs 
only, not the final costs of the event incurred by the Department. These costs do not include 
costs incurred by WCC. 
---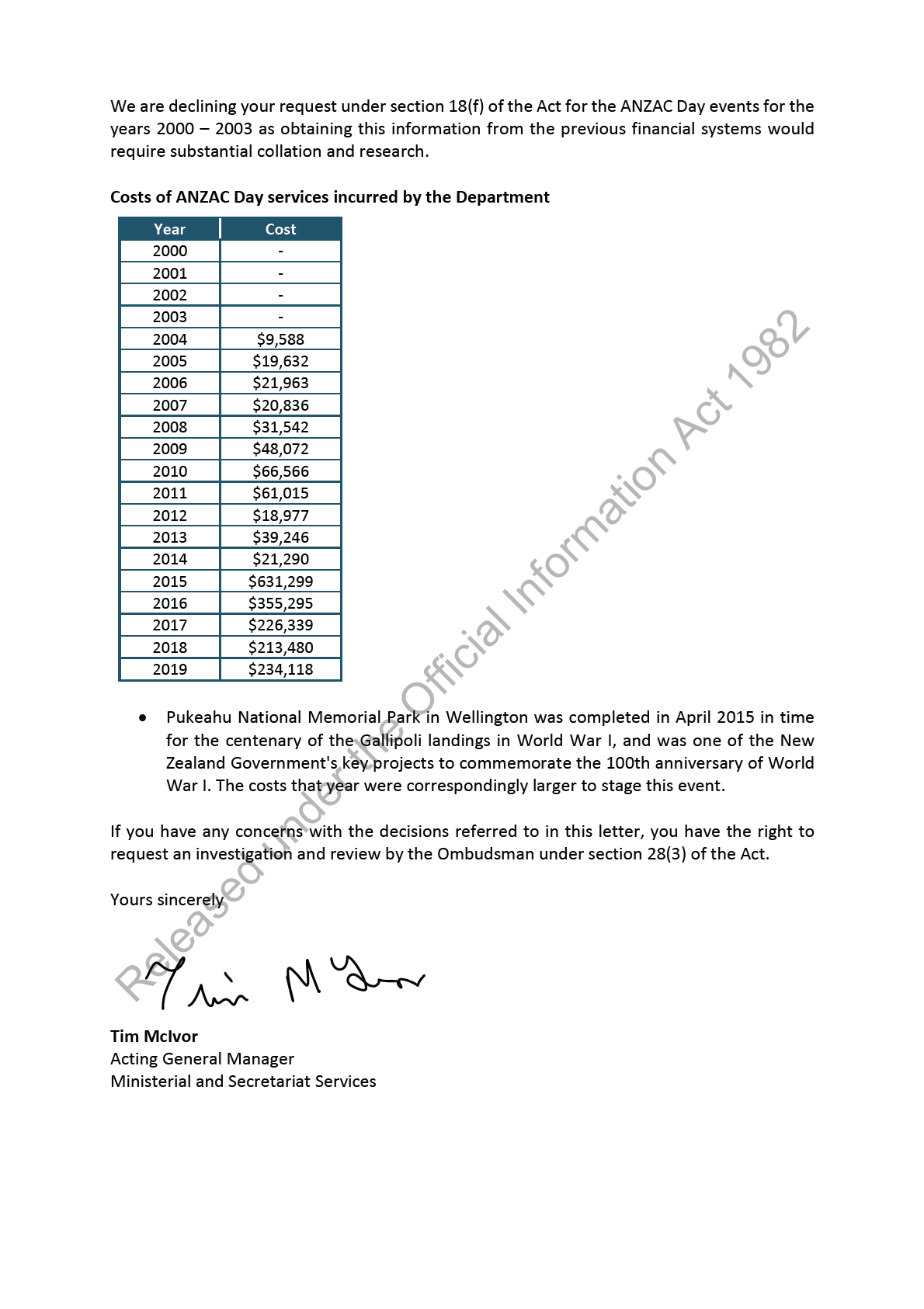 ---