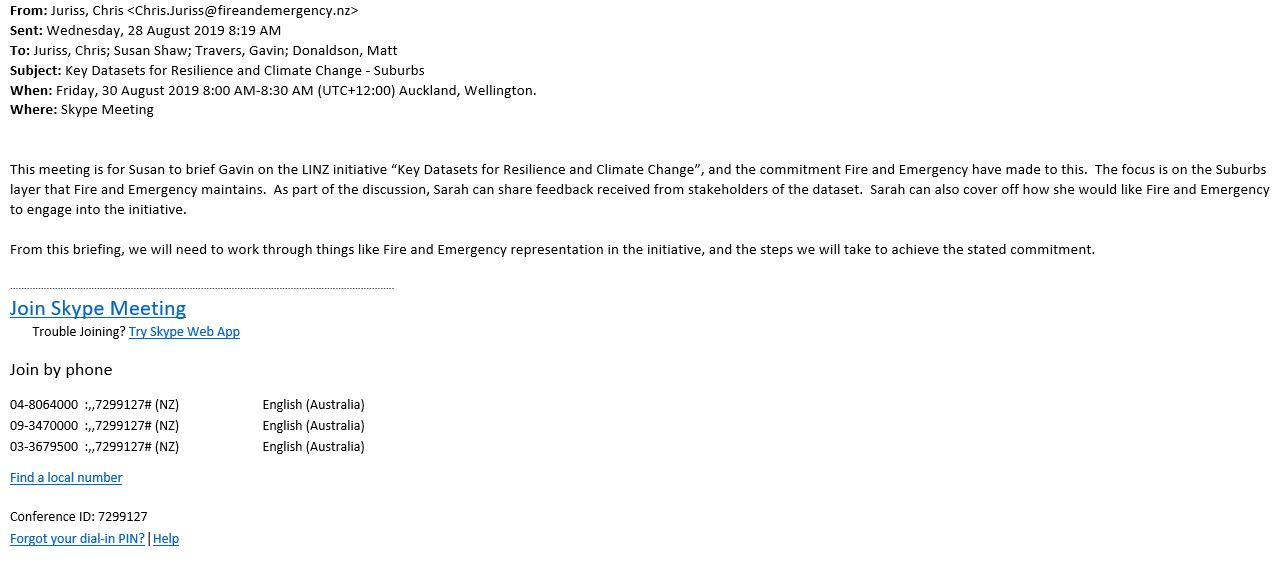 ACT
UNDER 
INFORMATION 
RELEASED 
OFFICIAL 
THE 
---

From:
Susan Shaw
To:
Juriss, Chris
; Donaldson, Matt
Subject:
Preparation for meeting with Gavin
Date:
Thursday, 29 August 2019 8:43:00 AM
Attachments:
image001.png
Hi Chris and Matt 
In preparation for our meeting with Gavin, could you please tell me more about Gavin's role and
his responsibility for the suburbs dataset. 
Also, could you remind me what year Fire and Emergency NZ first made the suburbs data
available under licence? 
That would be a big help. 
ACT
Thanks, Susan  
PS  Please note I'm currently working remotely in England, which is the reason you are receiving
this email outside normal office hours.
UNDER 
Susan Shaw
Senior Resilience Advisor
E  [email address]  | DDI 04 496 9430  | Mobile 027 7776222
Wellington Office, Level 7, Radio New Zealand House, 155 The Terrace
PO Box 5501, Wellington 6145, New Zealand | T 04 460 0110   
W  www.linz.govt.nz | data.linz.govt.nz
http://www.linz.govt.nz/sites/default/files/images/email-signature-v2.png
INFORMATION    
RELEASED   
OFFICIAL 
THE 
---
Document Outline
---