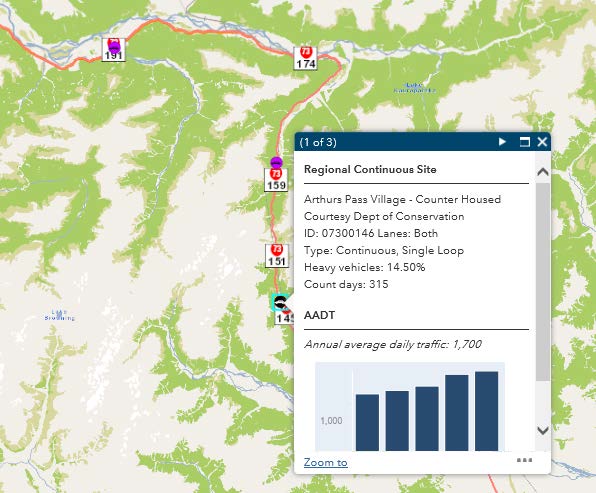 OIA-4784 Traffic Data (1).xlsx
Q. Could you please provide an estimate how many vehicles traveled across this stretch of State Highway during this time (preferably by year and vehicle type).
Ran the Site Summary Report for the closest continuous site = 07300146 at Arthurs Pass
Summary Type = AADT (7 Day) (Annual Average Daily Traffic)
This provides count and classifcation data back to 2001
For earlier years only the counts were loaded. No classification data is available.
Location of Site 07300146 - Single Loop Count is located outside Dept of Conservation at Arthurs Pass
ANNUALISED TOTAL VEHICLES
1996
1997
1998
1999
2000
2001
2002
2003
2004
2005
2006
2007
2008
2009
2010
2011
2012
2013
2014
2015
2016
2017
AADT (7 Day)
368,650
408,800
427,050
445,300
441,650
424,860
480,705
515,745
543,120
535,820
530,345
519,395
517,935
532,170
533,995
496,035
491,290
506,255
523,775
545,310
603,710
620,500
CAR
382,520
432,525
458,805
483,260
476,325
463,550
447,855
446,395
457,710
461,725
428,875
423,035
435,810
451,140
438,000
508,080
518,300
HCV1
6,205
7,300
10,220
9,490
9,125
10,220
9,490
9,490
9,855
8,395
5,840
5,475
5,840
5,840
9,125
8,030
8,030
HCV2
10,585
12,045
14,235
16,790
16,790
20,075
25,915
25,915
24,455
25,185
23,360
22,995
23,725
24,455
46,720
34,310
38,690
LCV
21,170
24,090
10,950
11,680
11,680
12,775
10,950
10,950
9,490
8,395
9,855
10,950
11,315
11,680
11,315
13,140
12,045
MCV
4,380
4,745
21,535
21,900
21,900
23,725
25,185
25,185
30,660
30,295
28,105
28,835
29,565
30,660
40,150
40,150
43,435
under the Official Information Act 1982
Released 
---
Document Outline
---