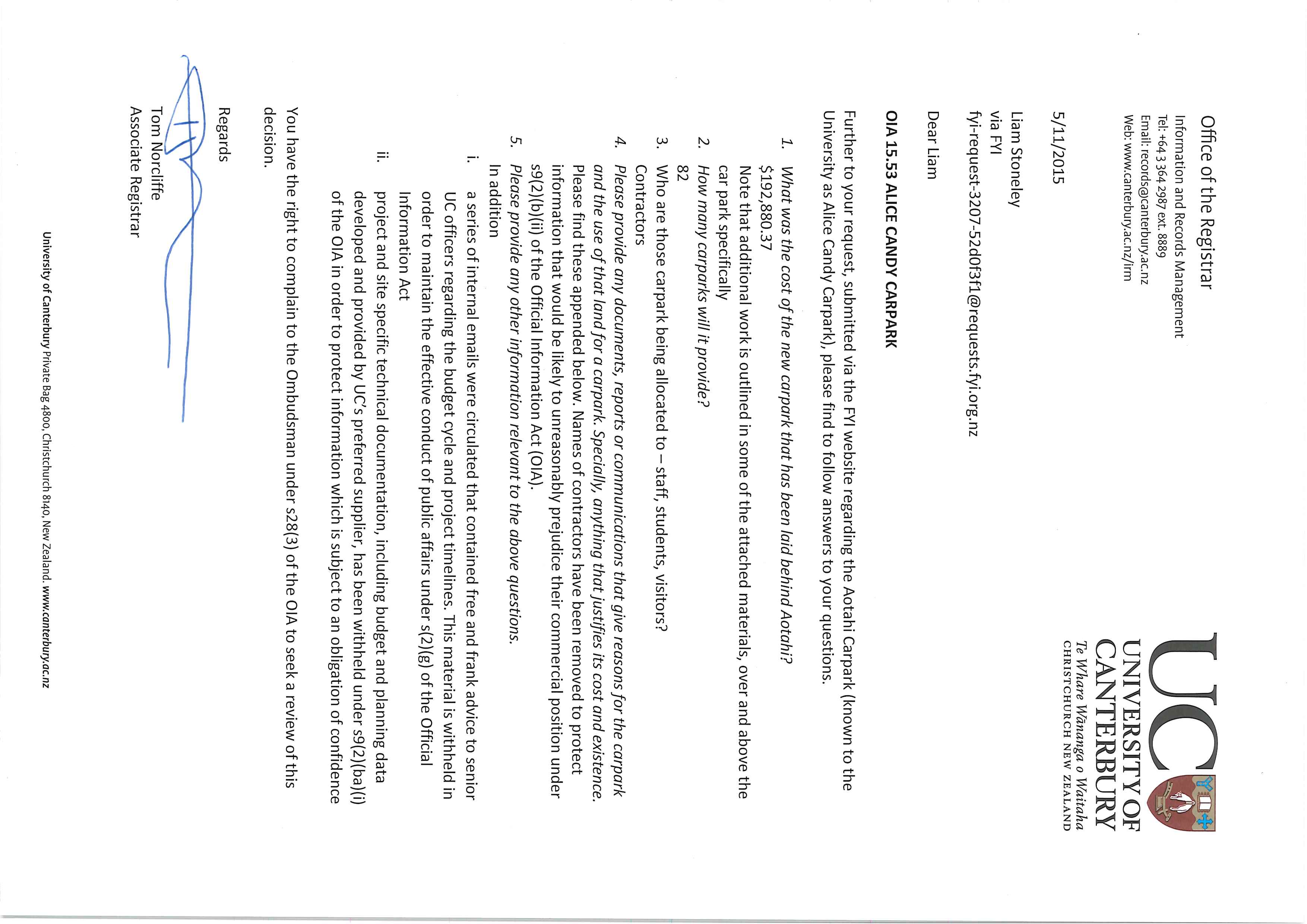 ---
August 2014 
Proposed Construction car parking provisions for 2015 
Background 
The ongoing transformation of the UC campus will reach a new level or intensity during the 2014/15 
summer break with both CETF and RSIC construction sites established along side  9 remediation and 
2 infrastructure projects . It is estimated that this scope of work will need to be supported by approx  
1200 construction staff all of which need to get to work. This is almost approximately double our 
previous maximum construction staffing peak levels of 650 experienced in the summer of 2014. This 
combination of a significantly increased scale of construction, the people it involves and the need to 
OIA
provide a safe environment within which UC can continue to operate has been a prime 
consideration for the newly formed Campus Construction Safety group. 
Our remediation experience to date has shown that contractor carparking has been an issue for  
both the campus and the surrounding neighbour hoods .This has come in the form of increased 
pressure on all of the Ilam campus parking which has necessitated the allocation of 100 free 
Contractor specific parks most of which are located around the Creyke Rd Hawkins house and the 
purchase of 25 UC parking permits . During the construction peaks within the summer breaks the 
Fine Arts and Law carparks have been available free for contractor use. UC's neighbours have also 
experienced an expanded pressure and scale of non‐residents parking on the surrounding streets. 
under 
UC's ability to continue to comply with the CCC parking requirements has also been affected by the 
large number of construction hoardings and traffic management plans required directly removing 
463 carparks from service by the start of 2015.  
The culmination of these pressures have required there to be a rethink of the contractor carparking 
provision for the next 3 yrs at least. 
Car parking options 
The options considered for the provision of temporary contractor carparking included 
Temporary construction
 –this involves the temporary establishment of carparks at various green 
space locations on campus . These would be made from recycled concrete chip or a gravel base with 
a temporary edge detail they would however still need a temporary resource consent and 
stormwater treatment .Unfortunately they would not be the most aesthetically pleasing solution so 
are best suited to edge of campus locations away from main entrances or frontages. They would be 
available to contractors at the current daily cost of $7.50/day. 
Construction hoardings
 – This is where the site construction hoardings are expanded to 
Released 
accommodate some construction car parking. This obviously is the contractors preferred option but 
the scale and location of the current constructions zones and their impact on campus requires them 
to be minimised not expanded so this was not considered further. 
---
Construction of a car parking building
 – The capital cost ,design and consent time for this 
permanent solution makes this option unachievable within the short timeframe available so was not 
considered further. 
Reallocation of existing UC parks
 – This involves the temporary reallocation of established UC  staff  
or student asphalted car parks for specific contractor use which are either charged or made available 
free . This is currently in place around the Hawkins Creyke road house providing 70 parks. 
The reallocation areas being considered are a section of the Dove dale Campus Carpark No 2  where 
initially 80 will be provided free on a trial basis .This will encourage the early morning car poolers to 
drop off their occupants to site and then park with a no cost option. Contractor vehicles will need 
specific identification as the remaining Staff student Dovedale car parks will continue to be charged. 
OIA
Another area currently being considered is a section of the western side of the Student union 
carpark to encourage the potential use of the Student event centre as a Contractor lunch location 
should this proposal be successful. This would be available at a daily charge. This proposal attempts 
to provide a centralised  contractor lunch location for all contractors complete with an approved 
smoking area with morning teas delivered to site so as to reduce the contractor pressure on UC 
student site amenities at key times. 
Temporary car park options
A wide variety of locations were considered and preliminary construction costs were established 
with allowances made for reinstatement as these options are clearly temporary as they  use crushed 
under 
concrete or gravel chip as a base. Locations that have been priced with a financial assessment 
include are shown on the site map ( see appendix). The financial options assessment (see appendix) 
is conservative and based on a 75% occupancy during the parking year ( Feb –Nov). 
1 Alice Candy West
  ‐ 95 parks Cost $201K Income $96K pa . This option is preferred as it placed 
away from site frontage bit still at the edge of campus and is no available with the loss of the 
Archives project. 
2 McMillan Brown South 
‐ 47 parks Cost $117K Income $48K pa . This is close to option 1 but 
displaces specific functions and events  held within this zone 
3 Music south
 ‐ 82 parks Cost $197K Income $83K pa . This requires the removal of a number of 
significant trees and effects an area adjacent to the Music amphitheatre which is being encouraged 
as an outdoor option for performances with the loss of use of the Jack Mann theatre. 
4 Between Uni drive and Science road
 ‐ 97 parks Cost 237K Income $97k This significant Ilam road 
frontage site would also require the bringing forward of the time frame for the removal of the pines 
at the south end. 
Released 
5 Science road North
 – 35 parks Cost $81K Income $35K This small extension of the Sciences carpark 
requires the removal of a significant group of cedars for relatively little return. 
6 Ilam fields East 
 –  443 Parks  Cost $985K Income $449K – This high profile community site  
adjacent to Ilam road provides the the greatest number of parks   .It also provides the greatest 
---
impact on the student experience in terms of green fields availability for sport and clubs , large 
student event location and general green space all of which is a unique aspect of UC. 
7 Research and industry zone 
 –  115 parks Cost $281K Income $109K – This Creyke road frontage 
site utilises the north undeveloped section of the proposed R&I development  . This area also 
includes the Hawkins Creyke road office and it is not proposed to shift this . It does however require 
the R&I development to be under way and the Creyke road houses be demolished prior to the 
carpark being established .Should this not occur then the current default provision of the existing 70 
parks in this area would remain available at no cost. 
8 Fine Arts Carpark East
  ‐ 176 parks Cost $380K Income $178K – This high profile site along the 
Clyde road frontage requires the removal of a large number of prominent trees  earth mounds and 
OIA
borders the much photographed large concrete entrance sign by University drive. 
CCC Parking Plan  
These have been confirmed as being linked to the UC staff and student numbers with the carpark 
count only related to those available on campus for that purpose so this precludes those used at UC 
accommodation facilities. By December of 2015 UC will have lost some 463 carparks with approx. 
160 of these being permanent with the rest being returned to service when the respective 
construction hoardings are removed. This will of course be a moving feast as the cycle of 
remediation works progresses .So although at December 2015 UC will officially be 138 carparks short 
of the 3106 required within the CCC City Plan at that time it can readily confirm that some 283 parks 
are only unavailable on a temporary basis.  
under 
Recommendation 
Of the options considered it is proposed to establish the details and progress the detailed planning 
for the following 
 Alice Candy East built option 1 with a daily charge                            
95  
Research and Industry built option 7 with a daily charge      
108 or 70 
Undertake the Dovedale Carpark 2 allocation at no cost on a trial basis   
80 
Proposed provision of contractor specific car parking in 2015   
283 or 245 
This approach will also ensure we are only providing 138 car parks less than the current CCC Cityplan 
requirements of 3106 while a further 283 are temporarily unavailable.
Released 
---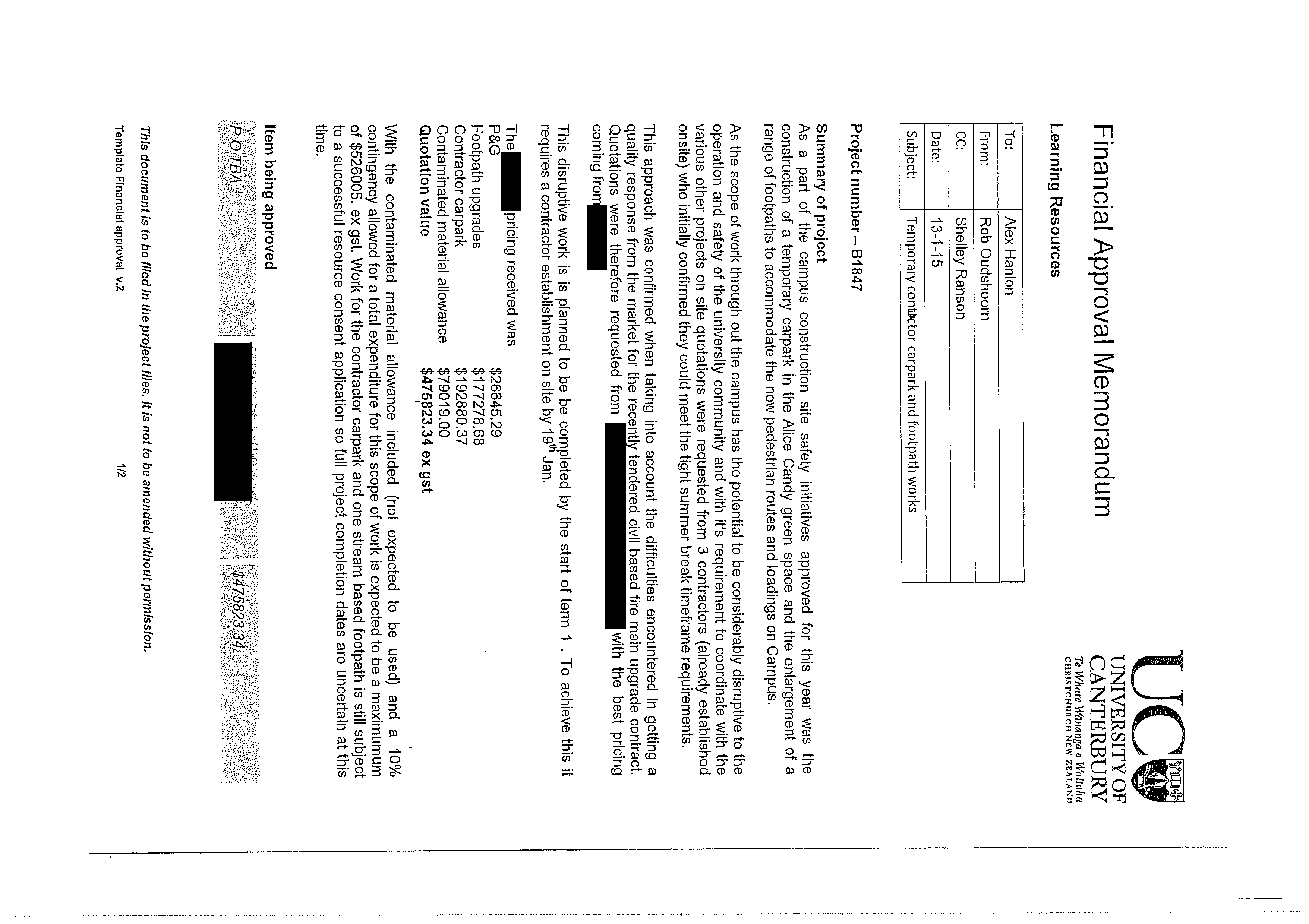 s9(2)(b)
under OIA
s9(2)(b)(ii)
(ii)
s9(2)(b)
(ii)
Released
s9(2)(b)(ii)
---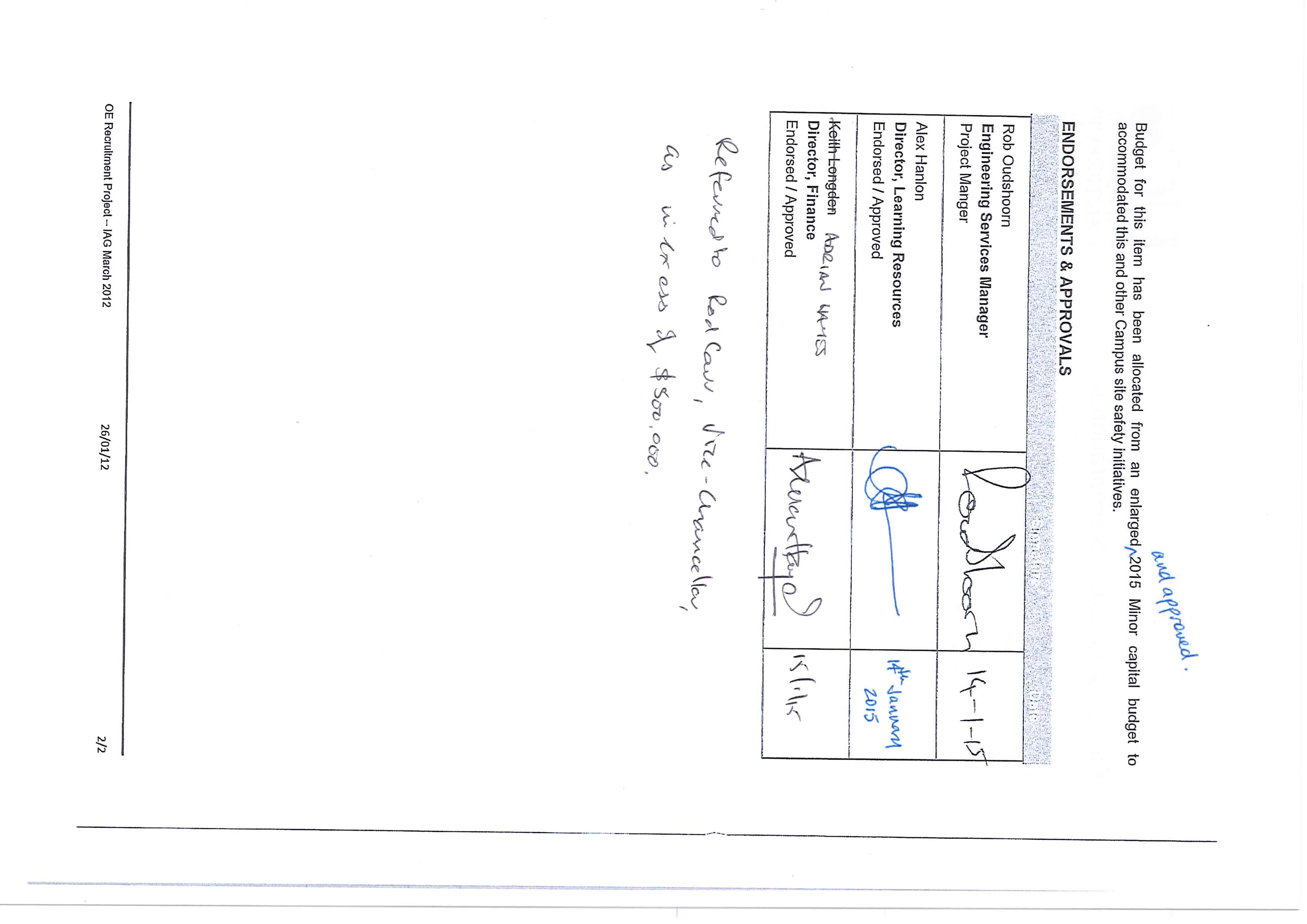 OIA
under 
Released 
---
Document Outline
---