7 March 2022            
Alan Thompson   
[FYI request #18529 email]  
Tēnā koe Alan 
Request for Information – Local Government Official Information and Meetings Act 
(LGOIMA) 1987 
 

We refer to your official information request dated 11 February 2022, in which you request  
Hutt City Council's Standard Operating Procedures (SOP) that were implemented in the Hutt 
River flooding event on 6 December 2021.  
This information is enclosed. Personal information has been withheld from this document 
pursuant to section 7(2)(a) of the LGOIMA, to protect the privacy of natural persons.  
It is important to note that Hutt City Council's SOP is not a standalone document.  There are 
many factors to be considered in the assessment of emergency management risk and 
response, and the SOP is always complemented by the experience and judgement of 
emergency management responders.    
Greater Wellington Regional Council (GWRC) is responsible for management of the Hutt 
River, including the forecasting of flood events.  GWRC is in the process of revisiting its 
current alert/trigger levels.  This will help Hutt City Council build a more robust capability for 
understanding the factors that might lead to a flooding event.  
You have the right to seek an investigation and review by the Ombudsman of this response. 
Information about how to make a complaint is available at
 www.ombudsman.parliament.nz 
or 
freephone 0800 802 602.  
Please note that this letter may be published on the Council's website.   
Nāku noa, nā       
Susan Sales 
Senior Advisor, Official Information and Privacy 

Encl:  Flood Activation Procedures 
---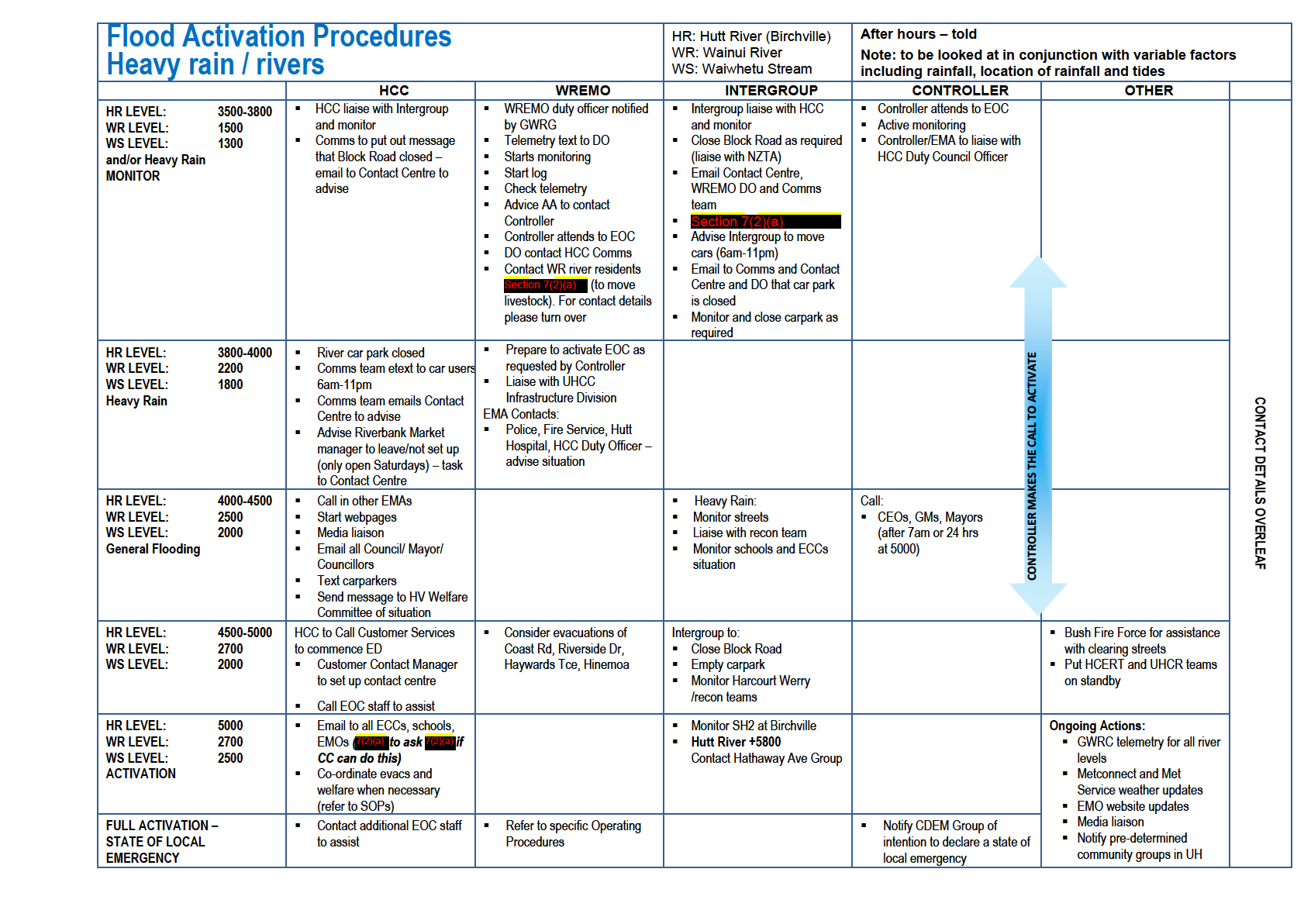 Act
Meetings 
and 
Information 
Official 
Government 
Local 
the 
under 
Released 
---