 6 October 2020 
IR-01-20-19940 
David Farrar 
[FYI request #13310 email] 
Tena koe David, 
In your Official Information Request dated 16 July 2020, you wrote: 
"story at https:llwww.rnz.co.nzlnews/te-manu-korihi/421104/police-acknowledqe­
claim-aqainst-racial-bias-was-false reports that  the number of pre-charge 
II 
warnings for first-time adult offenders 
...  
given to Maori as just 53 percent, 
compared to 59 percent for non-Maori. 11 
I 
am 
requesting 
a 
breakdown of those statistics by type of offence.  Specifically the 
data I would find useful is the number of Maori and non-Maori first time offenders 
in the crime categories below, and within each category what percentage were 
giving 
a 
pre-charge warning. 
The categories are the 16 ANZSOC categories (as listed at 
https:llwww. police.govt. nzlabout-us/publications-statisticsldata-and­
statisticslpolicedatanzlproceedinqs-offender-demographics): 
The purpose of the request is to see if the difference in the pre-charge warning 
rates can be explained by the type of offences committed and hence wish to 
compare the rates within the same type of offence. 
"
We have considered your request and provided a response to your questions in the 
following tables in Appendix A attached. 
The tables show the breakdown of the percentage of first time offenders who have 
been  issued with a pre-charge warning for the period July 2019 to March 2020. The 
period covers up to the third quarter (03) of the  year ending 30 June 2020. 
The  data  provided  does  not  include  all  16  ANZSOC  offence  divisions  that  you 
requested as some offences are not eligible for pre-charge warnings. The tables are 
broken down  by  Maori and non-Maori,  by offence division,  and by Police District. 
Police National Headquarters 
180 Molesworth Street. PO Box 3017, Wellington 6140, New Zealand 
Telephone: 04 474 9499. Fax: 04 498 7400. www.police.govt.nz 
---



---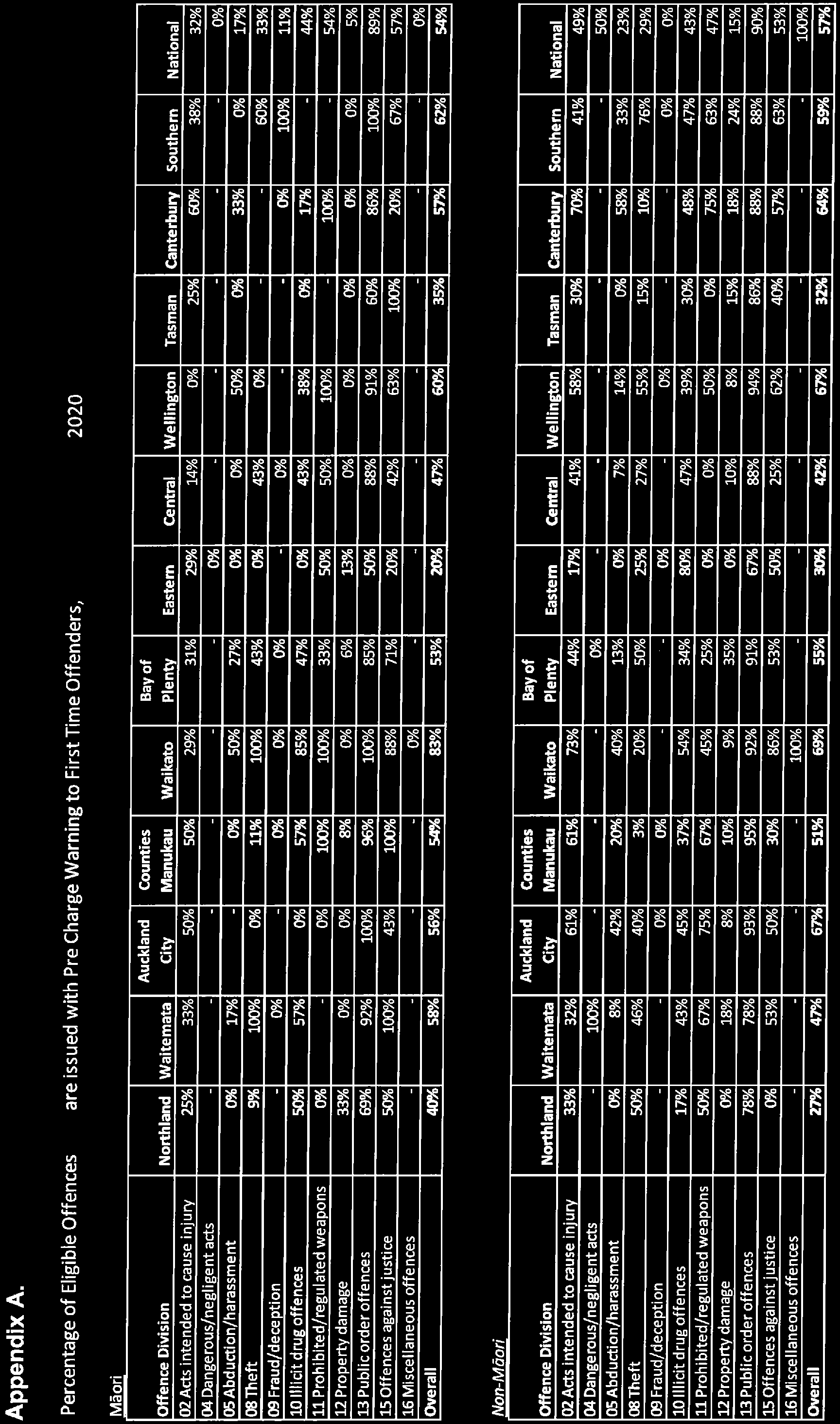 ---