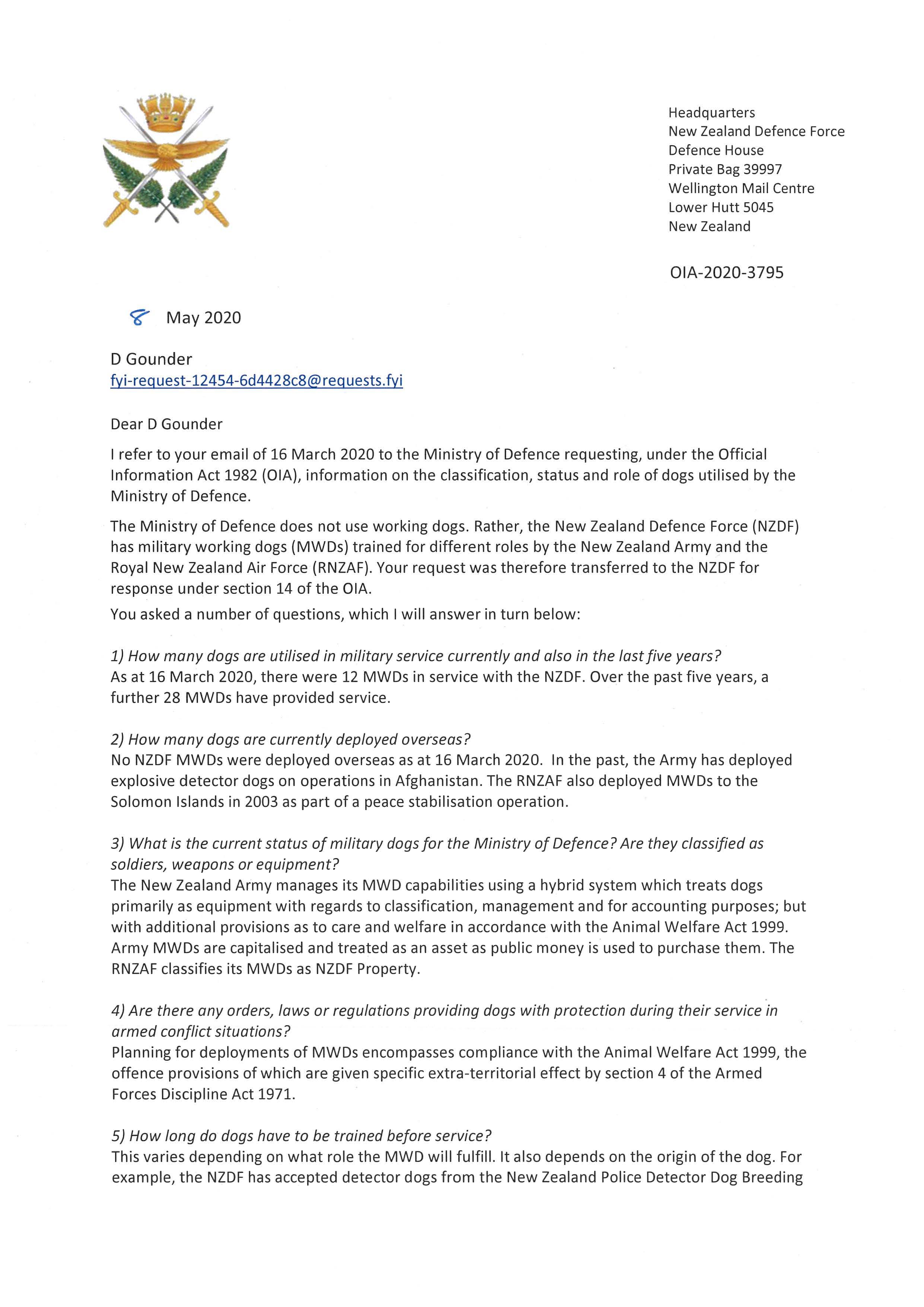 ---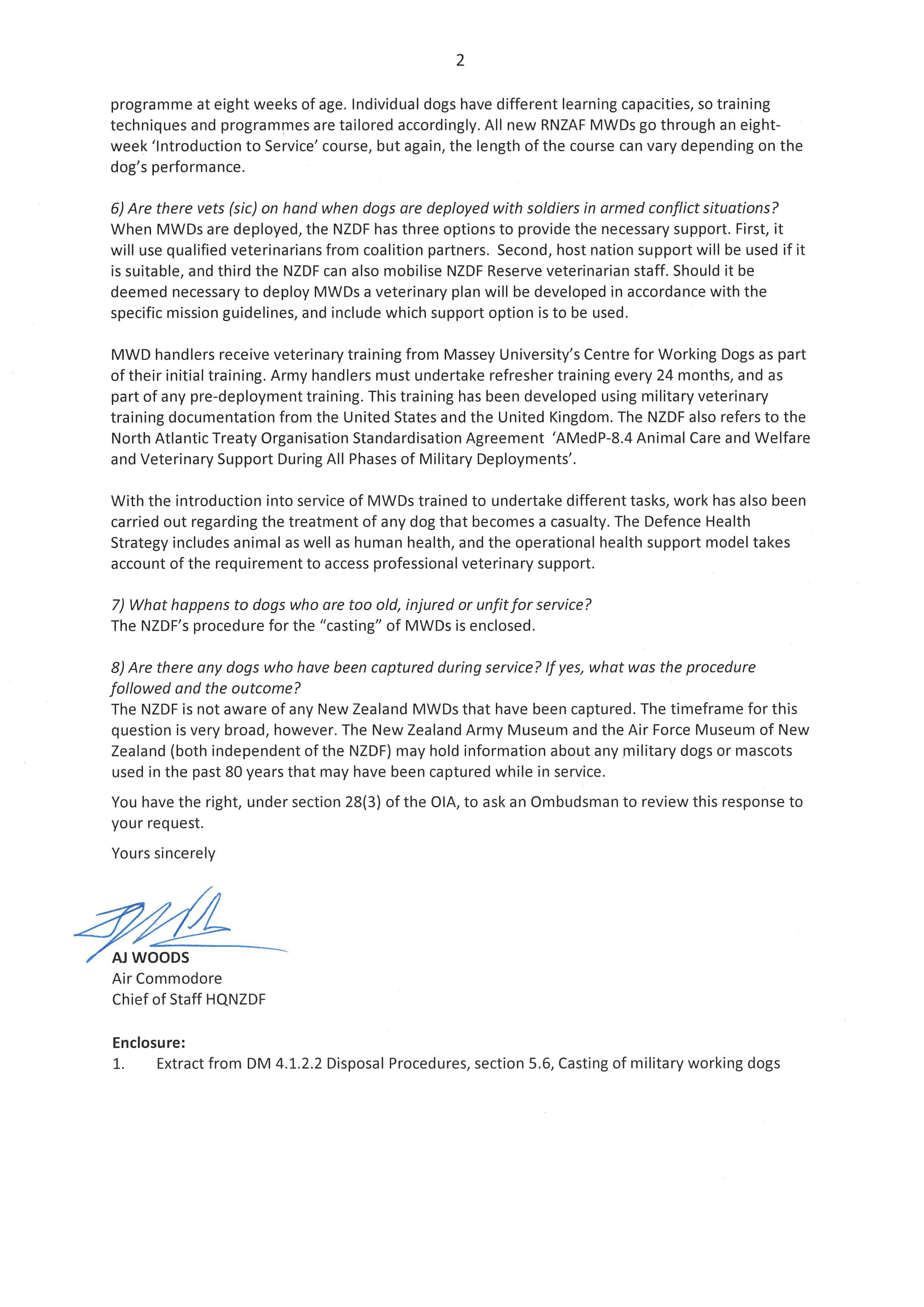 ---
UNCLASSIFIED
DM 4.1.2.2 Disposal Procedures 
Version 1.03
Chapter 5 – Disposal Process for Specific Items 
17 January 2020
Chapter 5 - Disposal Process for Specific Items
Out of Scope
1982
Act 
Information 
Official 
the 
under 
5.6. 
Casting of military working dogs
a. 
The term 'casting' is used to describe the removal of military working dogs (MWD) 
from Service. MWDs may be cast for the following reasons—
(1)  
Veterinary.
 On guidance from a trained veterinarian that the welfare, treatment 
or operational capability of the MWD is compromised and is deemed unfit to 
Released continue service through—
(a)  disease;
(b)  disability; and/or
(c)  physical incapacity.
5-1
UNCLASSIFIED
---
UNCLASSIFIED
DM 4.1.2.2 Disposal Procedures 
Version 1.03
Chapter 5 – Disposal Process for Specific Items 
17 January 2020
(2)  
Remount—
(a)  within or in access of the NZDF MWD age criteria of 7‒8 years of age;
(b)  temperamentally unsuitable for further service;
(c)  fails to develop, respond and retain training techniques; and
(d)  fails to maintain operational efficiency.
b. 
Approval for casting

(1)  
New Zealand Army. 
The commanding officer (CO) of the respective MWD holding 1982
unit is the approval authority for the MWD casting process, with guidance 
from the MWD Capability Manager (Land), MWD Section in change (IC) and 
veterinarian.
Act 
(2)  
Royal New Zealand Air Force (RNZAF). 
In accordance with NZAP 3300 
Manual 
of RNZAF Ground Defence and Air Security
, Chapter 10, the Commanding Officer 
Operations Squadron Auckland is the approval authority for any RNZAF MWD 
casting application. The only exception is if the MWD (under guidance from the 
veterinarian) is in great pain and euthanasia is the only option, then the Flight 
Commander Security Forces Flight Auckland can be the approval authority.
c. 
Planning.
 Once the reason for casting has been determined, then a disposal plan is to 
be formulated and presented as part of the approval process. The following options are 
available—
Information 
(1)  offer to other NZDF MWD capability;
(2)  offer to other government agency as a working dog;
(3)  live cast through re-homing to—
(a)  volunteer NZDF-qualified handlers currently in appointment or  
Official 
past-serving; or
(b)  volunteer NZDF employees;
the 
Note: 
 Live cast of a MWD through re-homing qualifies as a 'gratuitous issue' of an NZDF asset. In 
addition to the suitability assessment requirements specified above, approval to gratuitously 
issue any MWD must be undertaken in accordance with NZDF Materiel Management policy. 
Guidance on this requirement and the process to be followed is to be sought from the NDO.
(4)  euthanasia.
under 
d. 
Live cast. 
This is the preferred option. The following factors are to be taken into 
consideration—
(1)  reason for termination of service; and
(2)  classification and prior training of the MWD (MWDs that have undergone  
bite-related training can be considered for live cast); and
(3)  all incidents regarding behaviour that are attributable to the respective MWD.
Released 
5-2
UNCLASSIFIED
---
UNCLASSIFIED
DM 4.1.2.2 Disposal Procedures 
Version 1.03
Chapter 5 – Disposal Process for Specific Items 
17 January 2020
e. 
Euthanasia. 
This is to be the last resort. The MWD authority is to advise the chain of 
command prior to undertaking this step, unless the MWD is suffering, or there is an 
increased risk of injury to personnel and/or to itself. Only an authorised veterinarian 
may euthanise an MWD and this is to be administered as humanely as possible.
f. 
Documentation.
 Proposals and actions taken to cast an MWD are to be recorded 
using form MD1653 
New Zealand Defence Force Military Working Dog Application for 
Casting.
1982
Act 
Information 
Official 
the 
under 
Released 
5-3
UNCLASSIFIED
---